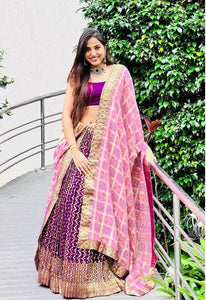 Purple Bandhani Lehenga
Regular price
Rs. 20,900.00
Rs. 0.00
Unit price
per
Tax included.
For Custom Measurements over Video Call, ping us on - WhatsApp
Purple Bandhani Lehenga
The Purple Bandhani Lehenga from MyRiti is a beautiful and elegant piece of traditional Indian attire, showcasing a blend of cultural artistry and contemporary fashion. This Purple Pure Bandhani half sarees comes with a plain Raw Silk blouse and a pure bandhani silk lehenga along with a beautiful contrast bandani dupatta with zari border.
Each Outfit is made on order and it would approximately take about 20 Days to get your outfit ready. For customization please ping us on Whats App @+91-8919332170.
This lehenga would be an excellent choice for weddings, cultural festivals, and other celebratory events, offering a blend of traditional elegance and modern style. Its striking color and unique patterns would make it a standout garment in any wardrobe.
Bandhani Lehenga Collection at myRiti
Bandhani Lehengas, an exquisite segment of Indian wear, are a testament to the enduring artistry of Bandhani. Originating from the art of tie-dye, which has its roots in the Indus Valley Civilization, Bandhani work involves dying a fabric tied tightly with a thread at several points, producing a variety of patterns. These patterns are not just designs but narrate stories of ancient traditions and skilled craftsmanship.
Wearing a Bandgani Lehenga from myRiti is an experience in itself. Each piece is curated to showcase the splendor of Indian craftsmanship blended with contemporary design elements. These lehengas are perfect for weddings, festivals, and other auspicious occasions, offering a regal and sophisticated presence.
---
Share this Product
---