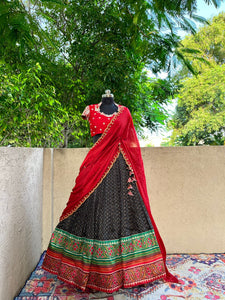 Red & Black Bandani Patola Lehenga
Regular price
Rs. 18,900.00
Sale price
Rs. 22,900.00
Unit price
per
Tax included.
For Custom Measurements over Video Call, ping us on - WhatsApp
Red & Black Bandani Patola Lehenga
Red and Black Bandani Patola Lehenga comes with a beautifully designed patola border lehenga with handwork on the front and sleeves, accompanied by a chinnon dupatta. This vibrant Lehenga is perfect for special occasions and festivals, becoming your favorite choice.
Indian Ethnic wear online shopping
myRiti is the one stop solution for Indian Ethnic wear online shopping which is a growing trend embraced by women of all sections. Among the various ethnic wear available, Patola Lehengas have always held a special place due to their unique patterns and motifs.
Authentic patola lehengas are cherished by women who also gift them to their loved ones, symbolizing their cultural significance. These silk patolas are renowned in Gujarat and Rajasthan and are often passed down through generations. The Patola Lehenga is specially designed for weddings and other special occasions.
Buying Bandani Patola Lehenga online and maintaining them
When purchasing Bandani Patola Lehenga online and caring for them, the versatility of these silk lehengas allows for various styling options without complexity. Pairing a simple red silk blouse with the patola lehenga enhances the beauty of the motifs and patterns.
Opting for contrasting colors between the crop top and skirt creates an eye-catching look. To preserve the patola, wrap it in a muslin cloth before storing it and iron it on low heat. 
Proper care is essential to maintain the delicate beauty of patolas. It is recommended to dry clean the patola fabric to avoid damage. If washing at home, gently dip the patola in cold water and allow it to air dry.
A beautiful Red and Black Bandani Patola Lehenga for special occasions
The Red and Black Bandani Patola Lehenga is a stunning choice for any festive occasion. Embrace your captivating, majestic, and elegant new look with this Lehenga from myRiti. Among the various styles available, the Bandani Patola Lehenga stands out as a true embodiment of beauty.
With a mission to revive India's diverse handloom sector, we proudly present the exquisite Red and Black Bandhani Patola Lehenga. This classic choice adds a touch of sophistication to your collection. Complete your outfit with this enchanting designer patola lehenga.
We believe in offering fair prices that benefit both our valued customers and talented artisans who make this handloom Red and Black Bandhani Patola Lehenga. Browse through myRiti's collection to discover various options featuring BandaniPatola designs, perfect for weddings, festivals, and social events. 
Get Red & Black Bandani Patola Lehenga for unlimited online shopping.
Women's ethnic attire holds great value in enhancing beauty for various events. For royal and sophisticated Indian Ethnic wear through online shopping, myRiti offers a wide selection of women's Indian Ethnic wear. It is the ideal destination for your traditional online shopping needs.
Every girl aspires to achieve the perfect look for special occasions like festivals, weddings, and traditional gatherings. With the Red & Black Bandani Patola Lehenga, you can rest assured that style and comfort are taken care of for any special event.
You can experience a new era of Lehenga fashion for Indian women with the exquisite PatolaLehengacholi collection. By choosing our handloom garments, you embrace elegance and show your deep appreciation and respect for the captivating heritage of Indian craftsmanship.
FAQs:
What makes the Red and BlackBandani Patola Lehenga special?
The uniqueness of this Lehenga lies in its Patola border along with heavy handwork on the sleeves and tops, complemented by the chinnon dupatta.
When can I wear the Red and Black Bandani Patola Lehenga?
The Red and Black Bandani Patola Lehenga is the perfect attire for traditional occasions and festivals.
Who can wear the Red and Black Bandani Patola Lehenga?
Women of all ages can wear the Bandani Patola Lehenga, which is particularly suited for teenagers and middle-aged women.
 Each Outfit is made on order and it would approximately take about 20 days to get your outfit ready. For customization please ping us on Whats App @+91-8919332170.
---
Share this Product
---